Dulytek® DHP5 All-In-One Hydraulic Heat Press for Rosin Oil Extraction, 5 Ton Pressing Force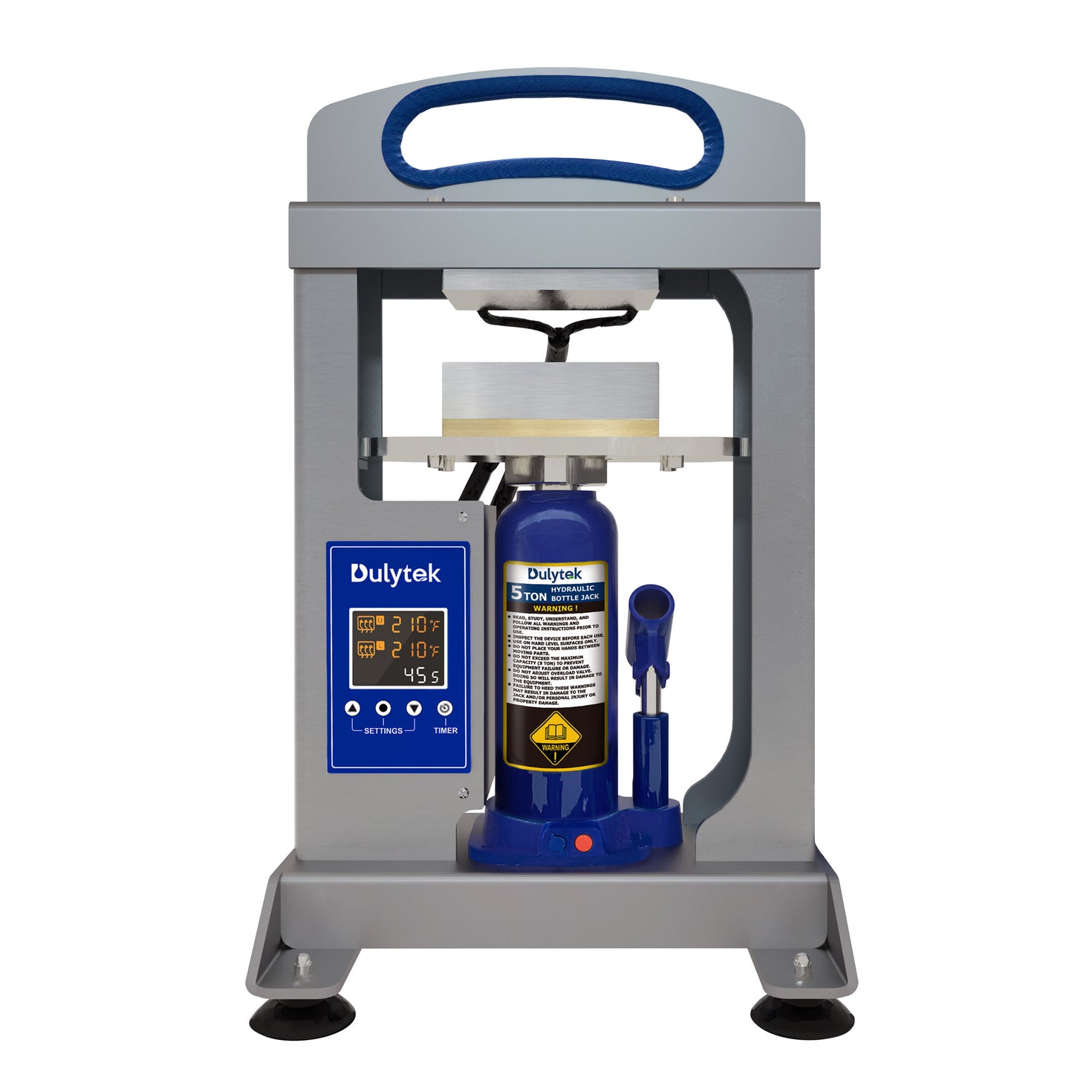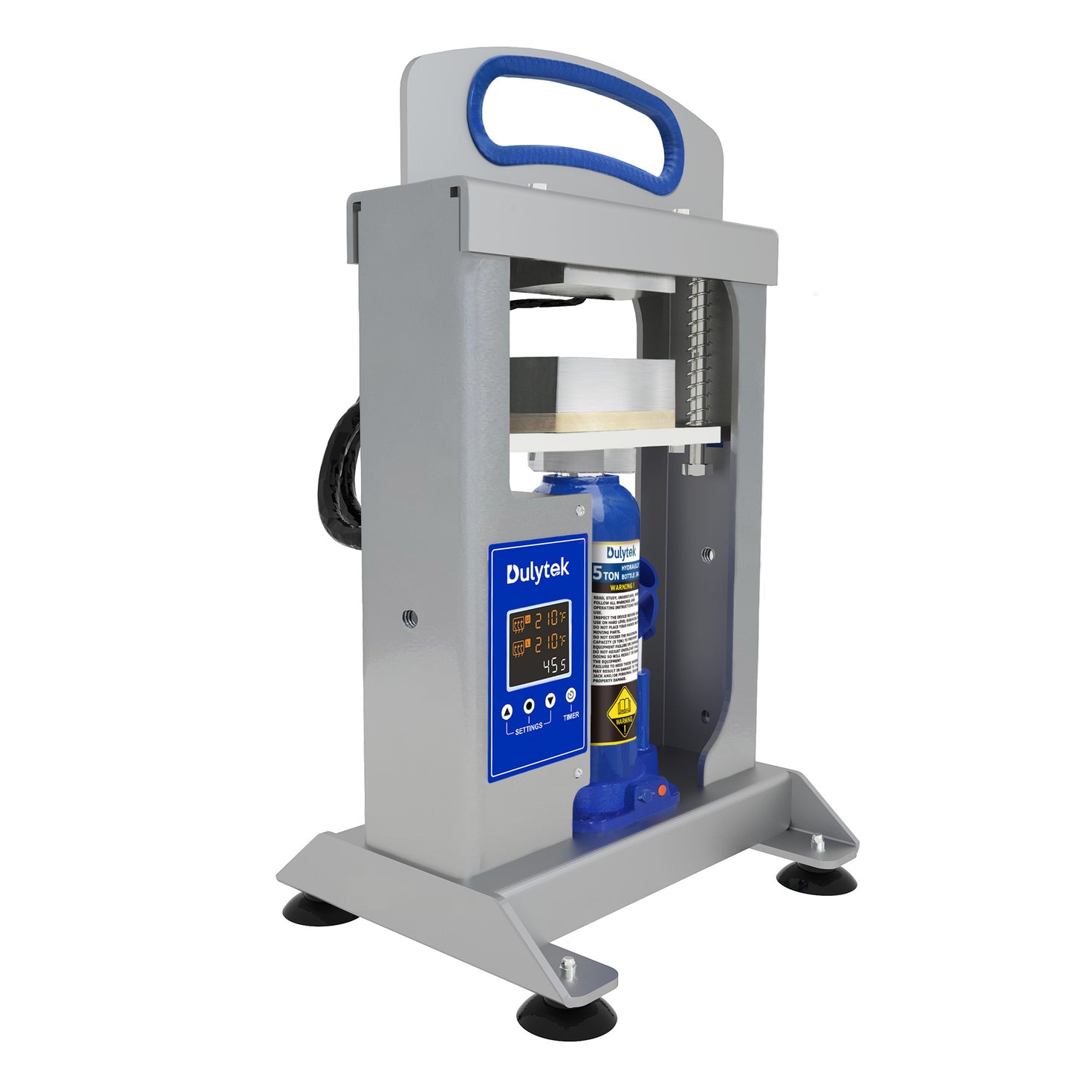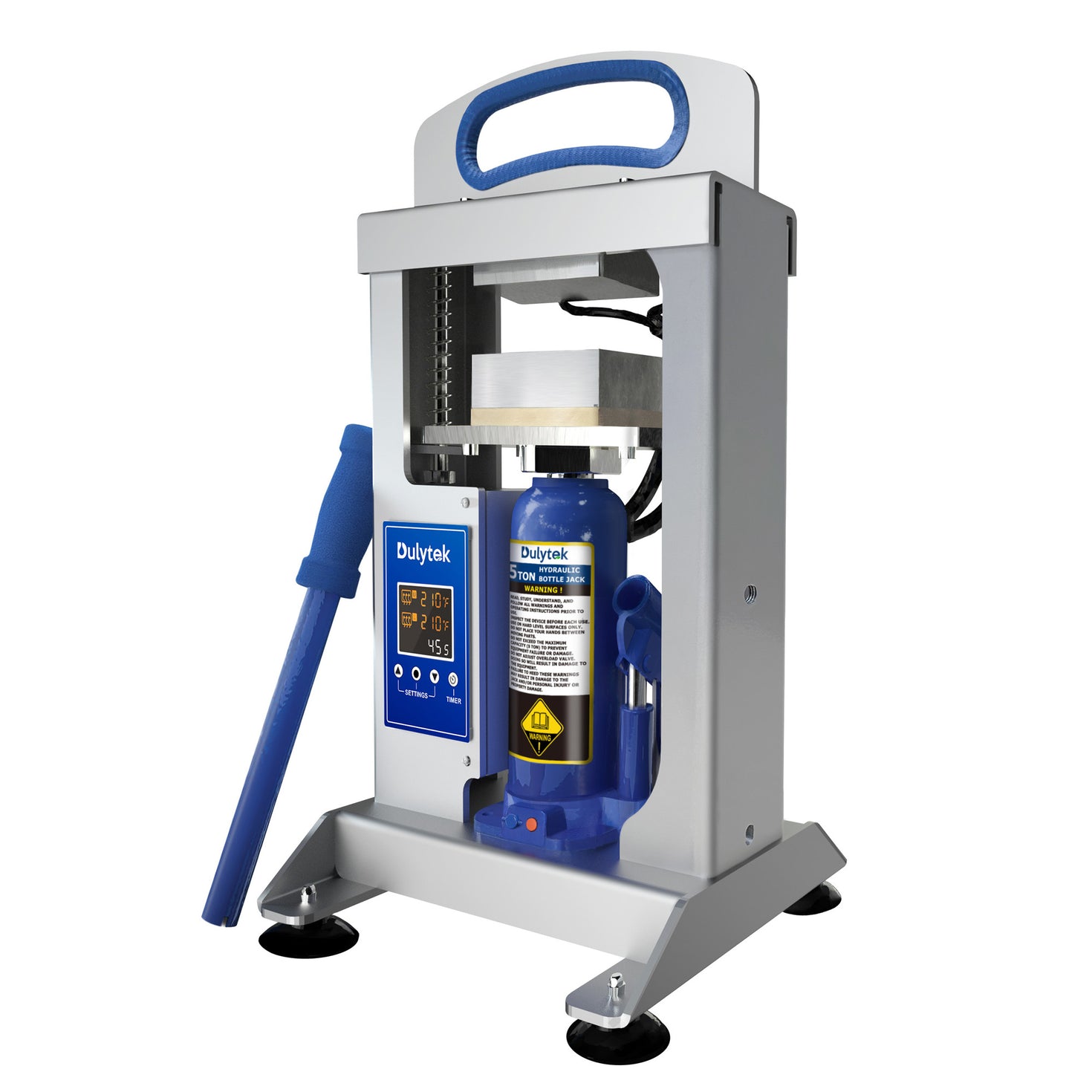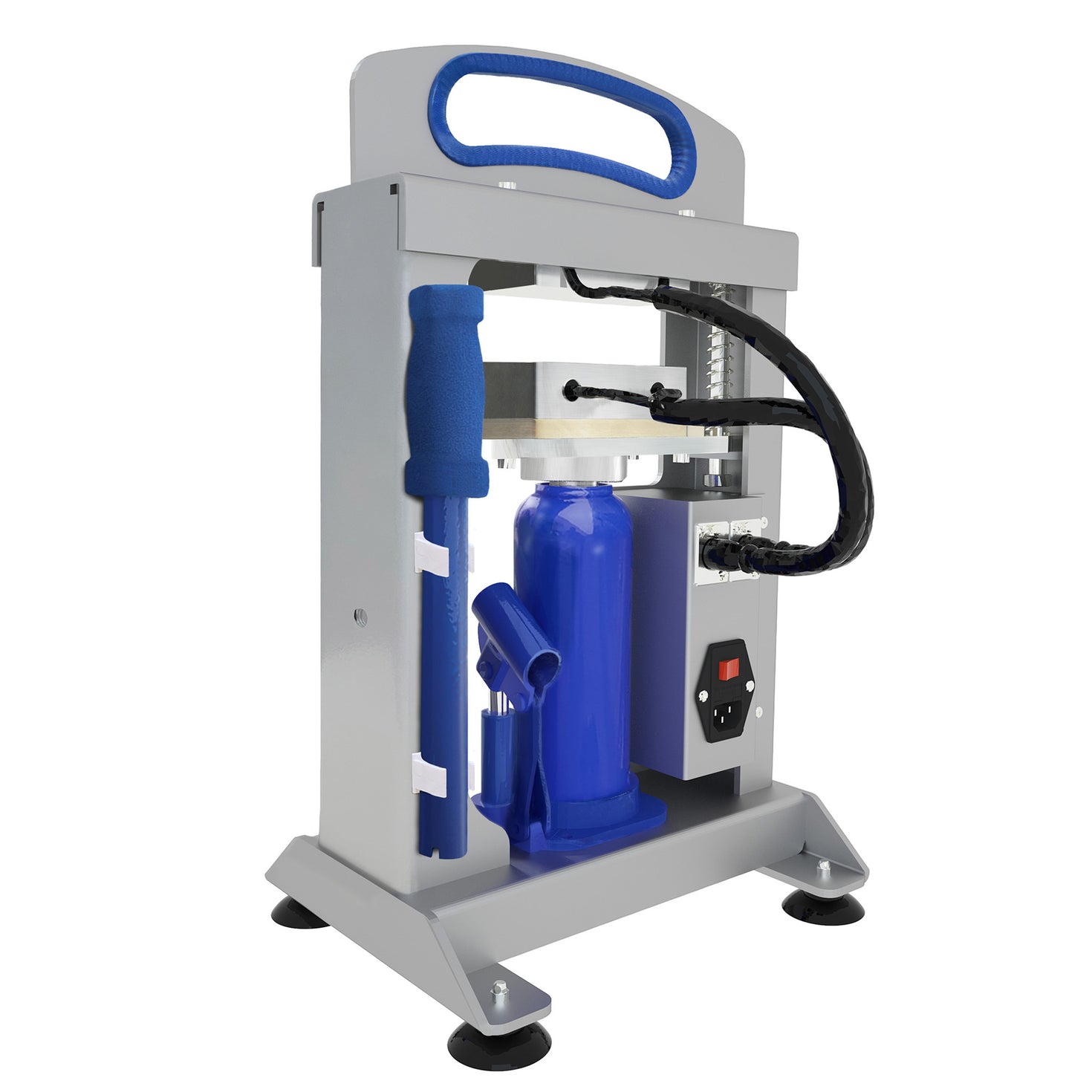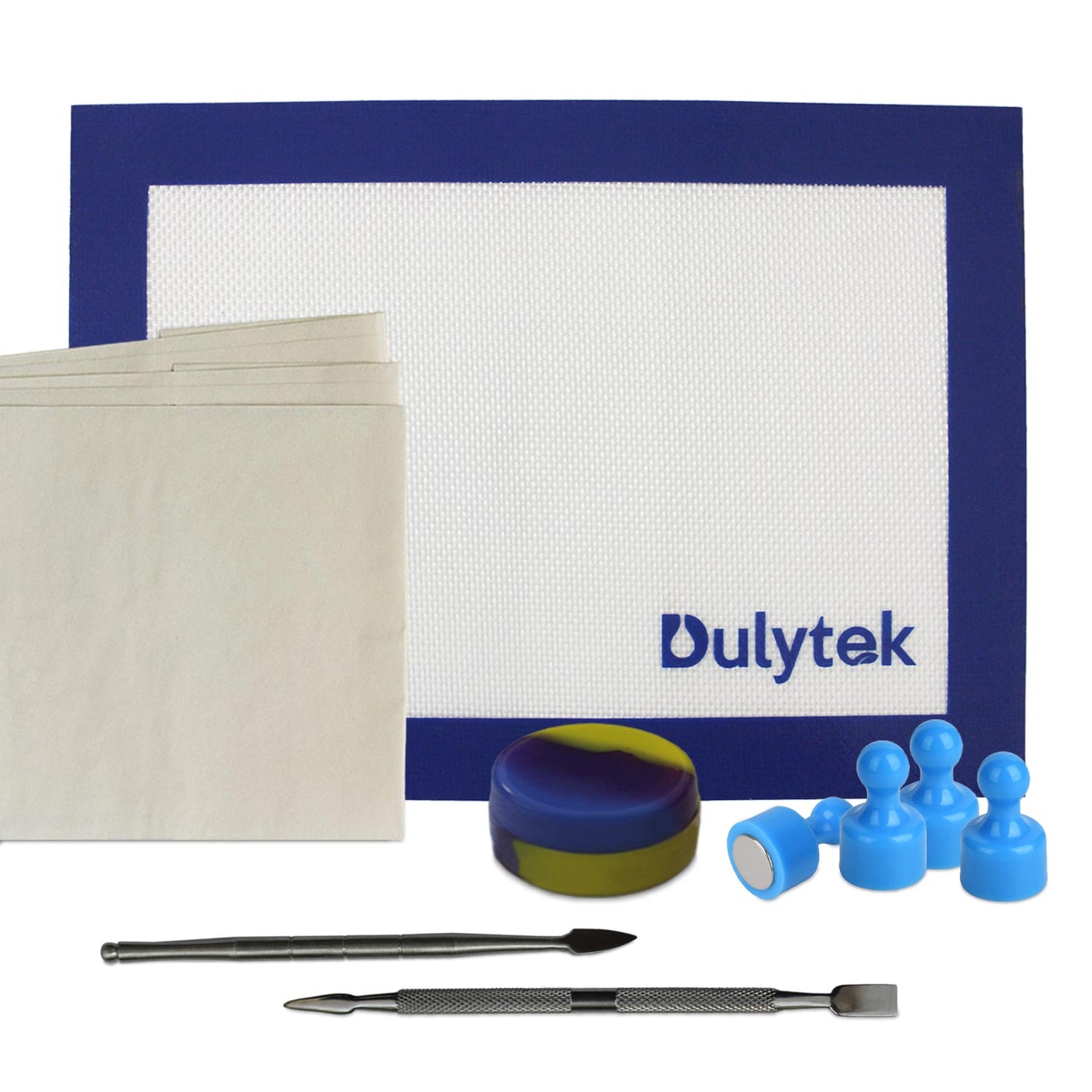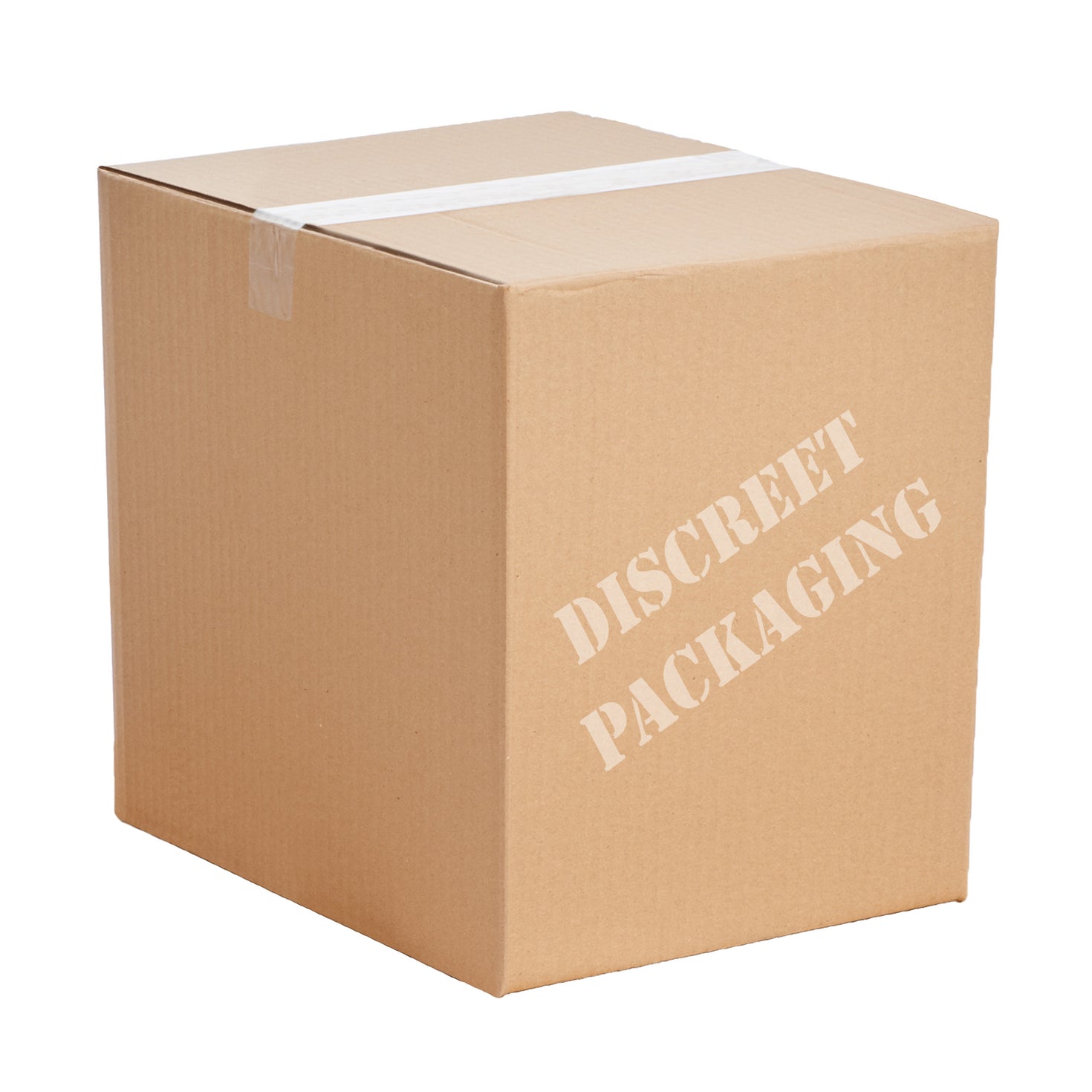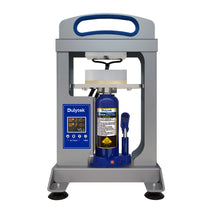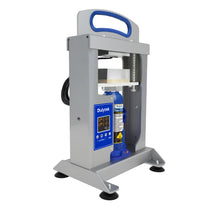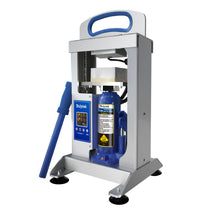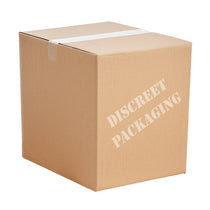 PRODUCT INFORMATION
ROSIN PRESSING TIPS
CUSTOMER REVIEWS
PRODUCT INFORMATION
Dulytek® DHP5 V5 Hydraulic Rosin Press is a lighter version of our popular DHP7 machine that boasts 3" x 4" dual heating solid aluminum insulated plates, new precision-built two-channel temperature and timer controller, an easily replaceable bottle jack with overpressure protection, and a sturdy frame. The new version is also DripTek compatible (the separately sold stand will be available soon). The operation is as simple as with our other hydraulic series machines. Just set your press parameters, pump the cranking handle to create a desired amount of pressure between the plates, set the timer, and when the timer is up, release the plates, and collect the freshly pressed rosin! The DHP5 press comes with a complimentary starter kit containing all the basic tools and accessories necessary to start pressing right away: two rosin collection tools, non-stick silicone mat, 10 sheets of parchment paper, 3ml rosin storage jar, and four magnets. 
The machine is available in two versions: 110V for North American and 220V  for European and Australian customers. Please note that the 220V presses are not shipped to US and Canada addresses. 
Technical Specifications:
Maximum pressure: 10000 lbs / 5 Tons
Heating plate size: 3 x 4 inch / 76 x 102 mm
Maximum temperature: up to 302 °F / 150 °C
Power:  360 W 
Current: 3.3 A / 1.65 A
Voltage: 110 V / 220 V
Weight: 31 lbs / 14.1 kg
Dimensions: 10 x 9 x 18 inch / 26 x 23 x 45 cm
Package dimensions: 14 x 13 x 22 inch / 36 x 32 x 55 cm
Package weight (with the product): 36 lb / 16.2 kg
Certifications: CE / RoHS
Limited warranty: 2 years
Discreet Packaging 
CUSTOMER REVIEWS
---
How many grams of flower can you press at one time ?

You can press up to 15 grams of flower on DHP5 at once. You can see the comparison table on our Support page.

How mutch flower will the 5ton and the 7ton do safely. Thank you for the time

It is around 15 grams for the DHP5, and 25 - for DHP7. See our Press Selection Guide.


How long does shipping take in the us

It depends on your location. With free delivery option, shipping usually takes 1 to 6 business days.

Would 2x4 bags be too big for these plates?

The plates are 3x4, so 2x4 bags should work. I assume you will be folding one end of the bag anyway to prevent loosing your material. That should shorten its overall length.

i am in the garage and its below freezeing and my machine won't heat up

Unfortunately, our rosin presses are not designed to work at below freezing temps :)  Can you please take it inside and let it gradually warm up to the room temperature before trying to turn it on? Once it is reached the room temp, it should work properly.

This has dual heated platens? Dual pid?

Yes, the press is equipped with dual heating plates.

I have a press I bought from you guys through Amazon. I can't get my plates to heat up anymore and I've used it probably 10x no problem. Plates start off at 32 degrees F and then normally heat up one plate at a time. Now it don't even say 32 degrees on start up. Just 000 degrees F. And it won't heat up. Please help me fix this. I really like this product.

Please email to help@dulytek.com. They will be able to help you with this issue.

What is the most amount of bud I can press at one time on this press if I use two different bags filled at once

It should handle up to 15 grams of material. I don't know what you mean by using "two different bags filled at once". Double bagging?

What should the temperature be

Please read our Rosin Pressing FAQ guide for our temperature recommendations.
SHIPPING
Free shipping on all USA domestic orders over $25 across all product categories.
---
PAYMENTS
We accept the following payment methods:
Credit Cards: Visa, MasterCard, Discover, American Express. The total will be charged to your card when the order is shipped.
PayPal: Shop easily online without having to enter your credit card data on the website.
---
RETURN POLICY
You can return any item purchased on Dulytek.com within 30 days of purchase.